Some of my LOs!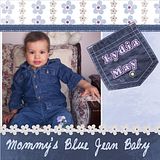 I've been working on scrapbooking and this is one of my newest images. I love the kit, its from Lauren's Forget Me Not. I dressed Lydia up in this outfit just so that I could take her picture. Here is another one that I did from the same day with the same kit.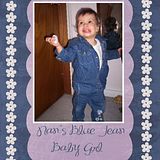 Here is a two page LO that I really like! I used Lauren's All About Baby Purple kit! It was my first time doing a two page LO, and I have to say that I am really rather proud of it!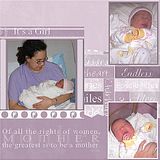 Its hard to believe how tiny she was when she was a newborn! It's hard to believe that I've been a Mom for over a year now! I have no idea where the time went, and how quickly Lydia actually grew up. I've been working on a baby book for Lydia with the LOs that I've been doing. I hope to chronicle her first two or three years of life. LOL, if this keeps up, I'll have Lydia scrapbooked all the way through high school! Here are some more LOs. I'll be posting them as I do them, but here are some that I've already done, either for challenges on W2W or Elemental Scraps.
This one I did for Week 1 of Deanna's Baby Book Challenge on W2W. The kit I used was Serenity, by Amanda Rockwell. I love the beautiful warm tones of this kit.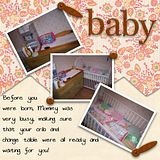 This is Week 2 of the Baby Challenge. I am using Shabby Mommy kit from Shabby Princess. I don't really have any pregnancy pictures of me, so I had to rack my brains what to come up with for this LO and decided to do a LO of getting my room ready for Lydia. If you thought that week 2 was racking my brains, you should see week 3! It's even worse! Having covered my pregnancy pictures, and pictures of the baby's room, I had only one option left. Here it is, you can see for yourself.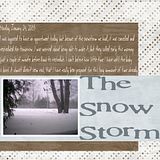 Yes, you guessed it! I did a snowstorm! LOL! I am using Amanda's Serenity kit again for this one as well.
Week 4 was her Birth, which was the two page LO that I did above. Here is week 5, Lydia at one month old. I am using Lauren Grier's Sweet Aria, a truly beautiful kit!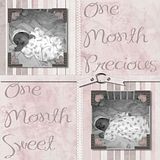 Nice, isn't it?
I have to say though, that I am the proudest of my newest LO, which I did yesturday for Amber's Midnight Crop on Elemental Scraps. It turned out beautifully, I used Amanda Rockwell's Bliss, which I love! Beautiful colours, I love purples and blues.